The Adult Choir
Rehearsal: Wednesday evening, 7:00 P.M. This choir leads weekly in Sunday morning worship services and occasionally on Sunday evening. Seasonally, the Adult Choir presents major
productions for the congregation and the community.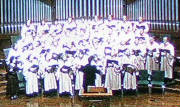 Sonshiner's & Sonshine Club
Rehearsal: Tuesday mornings, 10:00 - 11:00. This group is our Senior Adult Choir that participates in the leading of worship here at First Baptist Church. They have a meeting and luncheon on the second Tuesday of each month and call themselves the Sonshine Club.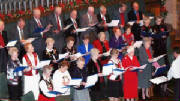 The Youth Choir
Rehearsal: Sunday afternoon, 4:45 - 5:45. This choir is for any student from sixth through twelfth grade. They lead in worship on Sunday evenings and through special programs.This group also ministers outside of First Baptist Church through Mission Trips.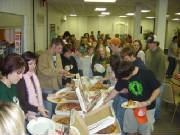 Children's Choirs
Rehearsal: Wednesday evenings, 4:45 - 5:30. Four year olds through fifth graders, divided into age graded choirs, bring special programs to First Baptist throughout the year and occasionally lead in worship.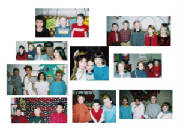 Instrumental
First Baptist Orchestra
Rehearsal: Sunday mornings, 9:00. This group of experienced Junior High through Adult instrumentalists play regularly in worship services and for seasonal performances.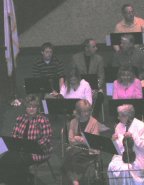 Handbell Choirs
Ladies' Handbell Choir: Rehearsal is Sunday evenings, 7:00 P.M.

Young Musicians Handbell & Choir Chimes: Rehearsal is Wedneday evenings 4:45 - 5:30.